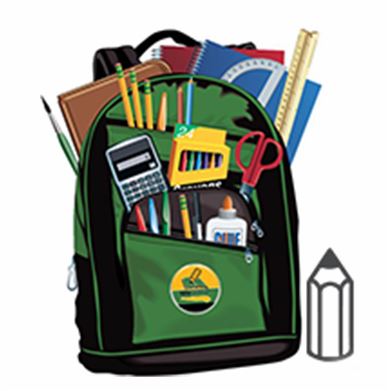 School Supplies-- General List
General Supplies

All students will need these items for use in many classes.

zippered pouch to carry supplies

pencils

1 large eraser (pink pearl type)

pencil sharpener with container to catch pencil shavings

black, blue, & red ballpoint pens

Several glue sticks

2-3 extra fine tip black marker/Sharpies
2 fine tip black marker/Sharpie

Set of 10 colored pencils

different colored highlighters

Headphones or wired earbuds

1" or 2" binder with 5 dividers

loose leaf binder paper, wide rule

12" ruler

Paper planner (will be available for purchase from MVMS on photo day)

White out

Optional helpful items:

portable charging brick can be nice

Stylus

**Once students have their schedules, during the first week of school teachers will let them know if there are any additional supplies needed for their class specifically. These may include things such as spiral notebook, small post-its (3x3), composition book (college rule), plastic 2-pocket folders, 4-Color Ballpoint Pen, colored markers, or Kleenex. Please wait to get these until you have your schedule.